Schools have reopened
In Sri Lanka, after being closed for a long time due to COVID-19, the schools are finally reopening. Ramani is again very busy to provide all sponsor kids with the right school supplies.
Online teaching does not work in Sri Lanka as the children are not in possession of a laptop at home. So, the school has asked for custom books this year so that the children can work a lot at home as they can only go to school a few days a week.
It has been decided instead of new shoes to buy these custom (more expensive) books for the children. Because the children could not go to school much recently, the old shoes have not been worn much and can last for another year.
---
Update project Mahaoya
Kanchana, one of the volunteers is doing a project for Srilankan Hope for Children in the area of Mahaoya. We are working together with the chief and he tells us where the poorest people live. In the past we helped one village by giving food parcels and solar units.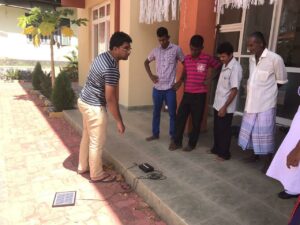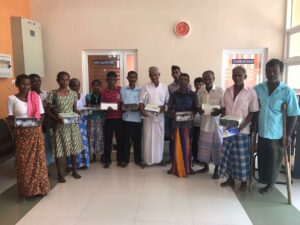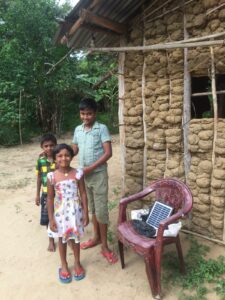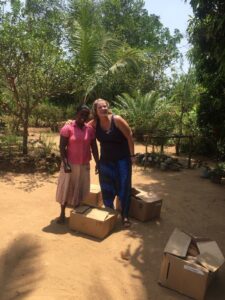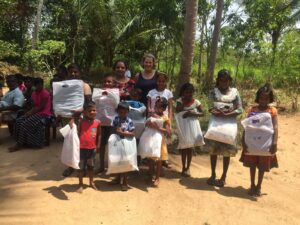 Two years ago, the chief told us about another, even poorer village. We visited this village, but could not meet all the people, as there is no road to the last huts.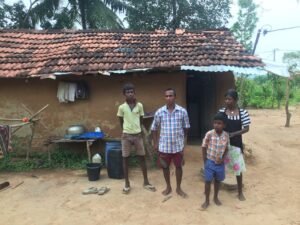 We discussed with the chief and the nearby headteacher from the local primary school, what we could do to help? Our main focus is, as always, the children. Out the 150 very poor families the chief and headteacher chose the 20 poorest families with schooling children.
We decided in this time of Corona to give each family, with the money we got from the Green Heart Campaign from LC Packaging, food parcels for 3 months and also 25 plants so they could grow their own vegetables.
These plants need less water than other plants.
We continue with this project but because of the lockdown many projects are delayed.

---
Boxes, boxes, a lot of boxes!
In 2001, I started to take school items with me from Holland to Sri Lanka. This was difficult as I could only take 20 kg with me. Some people gave me clothes and toys, which made me happy, but how would I take it to Sri Lanka? I tried if people or airlines could take it with them, but again this was very difficult.
My father said it might be a good idea to send a 20-foot container. I wasn't sure. Where would I get so many clothes and educational materials from, to fill around 400 boxes? I told my father this was not possible. But then something happened which changed everything. At boxing day, we heard about the devastating Tsunami. In less then 3 months we had not a 20-foot but 40-foot container full of 700 boxes, beds, tables etc.
But where could we store this boxes?
Ravi Perera came to the rescue. He owned a biscuit factory and the upper part of this factory was empty. It was a lot of work to get the 700 boxes to this factory. It took us 3 years to divide all the boxes between all the villages, schools and homes.
This had to change. I went back to taking a few boxes with me with the help of some companies which would take the boxes with them. At that time, I did not have to pay for the boxes or bags. Over the last 5 years around 300 boxes arrived in Sri Lanka.
But where to store those boxes now?
Every year there would be around 120 boxes and because of bombings etc. more boxes came to Sri Lanka than I could divide in one year. Over a period of 5 years the boxes were stalled at Tennekumbura with the family Wickramasuriya. We as Srilankan Hope for Children were very happy about this. The family had one room filled with all the boxes. I used their home also for dividing all the items. Last year we had to change because the family wanted their room back, which of course we totally understood.
So where to go now?
It is not easy to find a big and safe enough place. Thank God for Nishantha and Ramani. They agreed to put the boxes up in their house and hotel. At this moment there are around 140 boxes at Nishantha's place and 20 boxes at a guesthouse which Ramani runs. Nishanta picked up the boxes from Tennekumbura . Heavy work.
And where do I keep the boxes in Holland?
In my garage!
Natasja Lammers
---
What if you cannot go to Sri Lanka?
Due to covid-19, travel to Sri Lanka is currently not possible. Then what can you do?
You sit behind the sewing machine to make dolls- and Barbieclothes.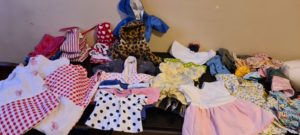 If I can go to Sri Lanka again, this will go along with all the dolls received.
Ingrid Wester




---
Reviews added about the tourguide Nishantha
The reviews are under the menu item Services or click here
---
LC Supports Foundation visit Sri Lanka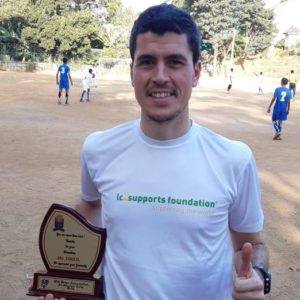 At the invitation of the LC Supports Foundation sponsor, Oriol Puig (an employee of the Foundation) was given the opportunity to visit
Sri Lanka. From 8 to 11 January 2020 he visited schools to see how Srilankan-Hope-for-Children spent the sponsor money.
You can read and see a report of his trip with photos here