We had a great day trip tot he Knuckles Mountain Range.
Nishantha is a great guide, very friendly and caring. He has much knowledge about the plants and animals there. We could learn a lot from him.
The landscape was impressive. We saw tea plantations, rice fields, a waterfall and many different animals and birds. The tour with Nishantha is highly recommended. We were completely satisfied.
Katja and Natalie from Germany
Wir hatten einen tollen Tagesausflug zur Knuckles Mountain Range.
Nishantha ist ein super Guide, sehr freundlich und fursorglich. Er kennt sich sehr gut mit den Pflanzen und Tieren dort aus. Wir konnten sehr viel von ihm lernen.
Die Landschaft war beeindruckend. Wir haben Teeplantagen, Reisfelder, einen Wasserfall und viele verschiedene Tierarten gesehen. Die tour mit Nishantha ist sehr zu empfehlen. Wir waren rundum zufrieden
Katja und Natalie aus Deutschland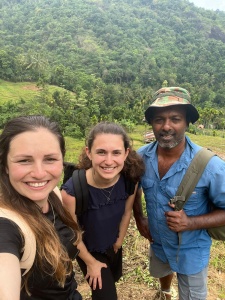 ---
During my stay in Kandy I met Nishantha. Nishantha is a very good and experienced guide. During the tour he told me everything in detail and sometimes I forgot but he told me without any problems again.
I had a special request about food (vegetarian) and that was also no problem. He arranged it and we ate together.
We had a good time together and I hope we see each other again.
Emre Cakmak 26
---
Nishantha gave me the me the feeling that I was one of Sri Lankan citizens.
He introduced me to all his friends and we even had the opportunity to play football together.
He is an very good guide and knows so much.
---
We had a walk with Nishantha and then we ended up at the Temple of Tooth.
The walk was beautiful and Nishantha had a good eye for this!
Especially the ceremony was fun to experience. Especially that there was someone there who could tell us how and what … because we had no idea what kind of "performance" was before us.
We were so happy with Nishantha that we did again a walk with him the next day.
This time it was a longer walk and in an area just outside of Kandy and 1 hour in the tuk tuk (Knuckles)
It was a nice route through the mountains past mountain villages and trees with different fruit, which he picked for us to taste and lots of beautiful tea plantations.
Nishantha told us a lot about nature and the animals. He knows everything about birds.
He was the best and nicest guide we have had in Sri Lanka.
Dionne Dekker
---
We met Nishantha as a guide in Kandy.
He showed us around the Temple of the Tooth, a Buddhist temple.
We experienced him as a very nice quiet guide. He knew a lot about the temple and about your organization.
Wish him and you the best of luck.
Anil and Geeta
---
Hiking in the Kandy Mountains is a feast for the eyes, where you get a lot of flora and fauna.
With the very friendly and informative guide Nishantha it is a pleasure to take in everything at a leisurely pace.
Even the rain couldn't ruin our hike in the Knuckles. Binoculars are a must to see even more of the beautiful nature. Fortunately, Nishantha also has binoculars.
Ingrid Wester with sons Tom and Koen
---
Nishantha is an excellent guide who knows a lot. But he is also funny and cares a lot about nature. He cleans up the plasic of the tourists and gets upset when he sees a bird. I didn't always see the birds but yes my eyes aren't that good either.
Since I come to Kandy once a year, I have already walked a lot with him.
We go to Hantana and it is so beautiful there. Every time he shows something different. You really need a guide there and Nishantha is also interested in his own country.
I have seen so many things that I did not even know are so close to busy Kandy and when you walk there it is quiet. Nishantha also loves the silence so he doesn't talk too much if you prefer not to do.
Natasja Lammers
---
Some more pictures of happy and satisfied guests.